Tonight we had dinner with one of the first cruisers we met in the US, Steve and Linda from Yesterdays Dream. We met them shortly after we arrived in Baltimore and took possession of Amanzi. We have met them at various points along the ICW and while we went to the Bahamas, they ended up in Marathon in the Florida Keys. While in Riviera Beach we realised from their blog that they had passed close by us again!!
Now we are in Jacksonville and flying back to NZ tomorrow and they are in St Augustine. So we arranged to meet half way for dinner and had a great time.
Yes, they are the last of our US friends that we will see until we return sometime!!
The last weeks have flown past as we have traveled around – also meeting up with our friends, Tom and Diane, in St Augustine. I had "met" Tom on the Bayliner owners Club when I was looking for a boat and also in person on our journey down the ICW. He has a wealth of knowledge and was most helpful on many occasions when I emailed him regarding any problem that I couldn't solve myself. Thanks Tom.
We have also been frantically cleaning the boat and getting her ship shape and ready for storage while we are away. While in Riviera Beach I have had some essential work done and will then be having her moved to Tiger point Marina in Fernandina Beach where my broker can look after her

Many thanks to our "crew," Alastair and Estelle – my brother-in-law and sister – for all the assistance with everything that had to get done. I hope that the pleasures of the trip have outweighed some of the disappointments!
Final Dinner aboard Amanzi – not lobster again???
Goodbyes………
And finally, emotionally we also said our fond farewells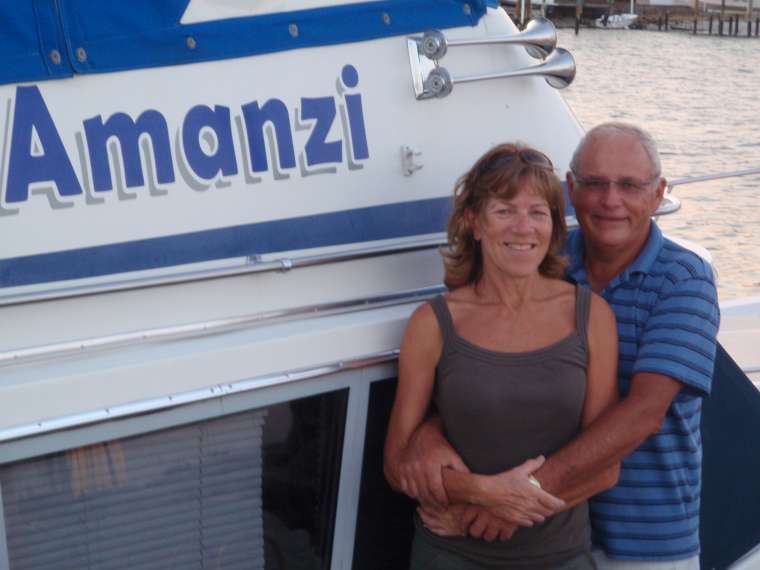 Where did it all come from?
PS
There will be one or two more entries in this blog site after we get back to New Zealand and are over the rush of our 3rd daughter's wedding next Saturday (21 April) and we have settled into the hum drum life of landlubbers again. So watch this space for a while yet.

Now, I just have to prepare, write, rehearse and finally present my "father of the bride speech." Helllllpppp. This is more scary than the thunderstorms and tornadoes we faced near Savannah last year!!!